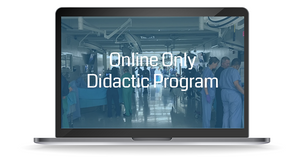 Regional Anesthesia Essential Techniques (Online Only Didactic Program)
Regular price $1,000.00 Sale
Earn 14 Class A AANA Continue Education hours
This online USGRA program (Essential Techniques), includes instruction for the following nerve blocks:  
Axillary
Adductor Canal
Fascia Iliaca
Femoral
Popliteal Plexus
Popliteal Sciatic
Supraclavicular/Interscalene
It also includes modules on the physics of ultrasound and implementation of a Postoperative Pain service
The program is not your typical "death-by-PowerPoint"!  Consisting of interactive learning modules, it uses the most comprehensive and proven learning methodology or pedagogy in education today.  The modules include pre-testing, mid-term and post-program testing along with many test your understanding exercises. It allows the learner to engage at their own pace and to come-and-go as necessary.
Maverick's interactive online education program was developed by practicing CRNAs with many years of experience in the field of regional anesthesia, education experts in the field of Pedagogy from Texas A&M University and instructional design professions.  
Note: Once all requirements have been met for this program, participants may attend a scheduled cadaver lab for this program at a later date for an additional fee of $1600.
View Technical & Program Requirements
In order for each participant to have access to the online program and to provide individual information, please register each attendee separately.